Isle of Arran Scotch Whisky
Not only is Arran our home in Scotland, it also boasts one of the younger distilleries producing fine single malt today. The new Marsala Cask Finish is a wonderful addition to the growing line up of fantastic expressions from Lochranza. I wanted to sum up the ethos of the distillery – what better way than their own words:
"Great malt whisky is a distillation of the place it's made. The local water, microclimate and air quality all influence the spirit as it's distilled and matured. Isle of Arran whisky couldn't come from anywhere else but this wee rock, of twenty miles by ten. Our whisky is the island, bottled.
 This geography is key to the character of our whisky. Here we make a spirit that reflects a range of regional influences, yet achieves a rare and unique personality all its own. Rather like the island itself."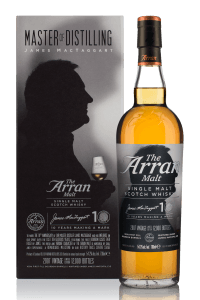 In 2017, Master Distiller James MacTaggart celebrated his 10th anniversary at the Isle of Arran Distillery.
This fresh and vibrant expression of The Arran Malt has been carefully created by James to mark this milestone in his career.  A selection of first fill 10 year-old Bourbon Barrels from James's first months of production with us in 2007 form the much loved citrus fruit and sweet spice character of this dram. A memorable and classic expression of The Arran Malt.
• Bottled to mark the 10th Anniversary of Master Distiller James MacTaggart
• Limited Edition of 12,000 Bottles Worldwide
• Bottled at Natural Cask Strength 54.2% abv.
• Unique release featuring a selection of first fill 10 year-old Bourbon Barrels
• Non Chill Filtered & No artificial colouring.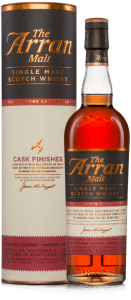 After initially maturing in traditional oak casks over a number of years The Arran Single Malt in this bottling was 'finished' in a selection of Amarone wine casks sourced from an artisan producer of this stunning & iconic red wine from the Veneto region of Italy. Our Master Distiller, James MacTaggart, has carefully monitored this period of secondary maturation to ensure the perfect balance is struck between the Amarone casks and the intrinsic sweet-fruity character of The Arran Malt. The end result is a Single Malt with a rich brooding character, full of complexity and quality.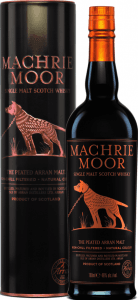 On the west coast of the Isle of Arran lies a windswept and mystical peat bog called Machrie Moor. Bronze Age stone circles and standing stones are strewn across its barren, undulating terrain. One of the stone circles is known as Fingal's Cauldron Seat, where sits a stone with a carved hole. The legendary warrior giant Fingal is said to have tethered his favourite dog Bran to this stone. This peated expression of the Arran Single Malt perfectly captures the rugged beauty and lore of the landscape. Unleash the legend that is Machrie Moor.
Bottled at 46% without chill filtration or added colouring, this peated Arran Single Malt displays all the freshness of our island house style, with an added puff of smoke and earthiness.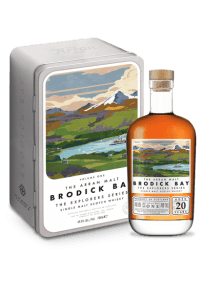 The Arran Explorers' Series is a collection of limited edition expressions of The Arran Single Malt. Each edition celebrates the outstanding scenic beauty and diversity of nature on the Isle of Arran.
As the ferry across the firth of Clyde nears its destination, the visitor will be granted a first glimpse of 'Scotland in Miniature', the Isle of Arran. The broad sweep of Brodick Bay, backed by dense woodland of Scots pine, is guarded by the island's highest peak, Goat Fell. With its varied terrain of sandy beach, verdant field, impenetrable forest and craggy mountain pass, this magical island affords the traveller a wide choice of outdoor pursuits.
This view from the foothills south of Brodick Bay is best taken in with a dram of The Arran Single Malt in hand. This particular example is 20 years old and has been matured in both Bourbon Barrels and Sherry Hogsheads before being finished in Oloroso Sherry Butts sourced directly from Bodegas Tradicion in Jerez de la Frontera, Spain. The complex and multi-layered dram perfectly reflects the diversity, allure and charm of this beautiful island. Take your senses on an adventure around the Isle of Arran.

Comments are closed