Kavalan Artist Series Single Malt Whisky Paul Chiang 2021 (4 x 1000ml)
$3,999.00
In stock
Email to a friend
Description
Kavalan Artist Series Single Malt Whisky Paul Chiang 2021 (4 x 1000ml)
In ancient times, the land around I-Lan in Taiwan was called Kavalan, a mysterious land that was solely inhabited by the indigenous people of the Kavalan clan. The name was officially recognized by the Emperor of the Chin dynasty in the year of 1809 when the original city was also built under the same name.
Kavalan had always been kept primitive and protected from the outside world by the Syue-shan mountain range which is abundant in high quality natural water that comes from deep within the mountain range. The mists of Kavalan and the spirits of the past have been created for you in these exquisite whiskies.
Kavalan are celebrating their 15th year of operations with the release of the "Kavalan Artists Series" in collaboration with artist Paul Chiang.
Featuring 4 Cask Strength whiskies, with each bottle and box featuring one of Paul Chiang's paintings, embodying the elements of Ocean, Sunlight, Air and Mother Earth.
More than just a set of whiskies, these are pieces of art in a bottle.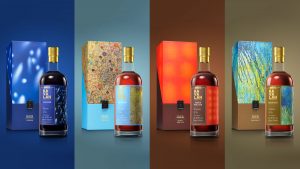 The set includes:
OCEAN – Puncheon. Single Cask Strength ABV 55.6
Painting – "Pisilian (Morning Stars over the Coast)"
The indigenous name, Pisilian, refers to a stretch of Taiwan's eastern coastline, connecting Kavalan's home in Yilan County with Taitung County where Paul Chiang is based. Kavalan's story, or dream, starts in the Ocean under a starry sky. From here, moisture rises and eventually condenses above Snow Mountain, creating Kavalan's legendary water source.
Official Tasting Notes:
Colour: Dark Crimson Waves
Flavour: The delicious aroma of freshly roasted almond biscuits brings out the smoothness of vanilla and sweetness of white peach, with a hint of maple syrup to accentuate the fruity aroma.
Palate: Smooth vanilla and sweet toffee, accentuated with hints of nutty notes, give way to a rich burst of white peach and tropical fruit – a multilayered flavor with an ocean of depth and complexity, and a smooth finish.
Sunlight – French Wine Cask Single Cask Strength ABV 61.8
Painting – "Meditation on Eternity"
The golden Sunlight in this piece represent sparks of hope, lighting the path toward the Kavalan dream. The fiery red denotes both the intensity of purpose and the heat of the sun, the same life-giving warmth that uniquely enhances Kavalan's ageing.
Official Tasting Notes:
Colour: Final rays of an amber sunset
Flavour: The exquisite yet vibrant scent of berries and black currants form the body of this aroma, mixed with sweet peppers, apples, caramel and ripened fruit for a charming composition.
Palate: A full-bodied and multilayered tropical fruity flavor marked by rich and distinctive notes of wild berries and dried fruit for the perfect balance. A dash of soft tannins with subtle hints of spiciness deliver a charming and elegant finish.
AIR – Virgin Oak Single Cask Strength ABV 52.4
Painting – "On Wings of Song"
Named after a Felix Mendelssohn piano piece, Paul Chiang's circular brushstrokes imagine effervescent air particles and the beating of wings, creating the sensation of air in motion. The Kavalan dream takes flight in Air, and this painting can be seen as an artistic rendition of whisky's maturation process.
Official Tasting Notes:
Colour: Sweet Black Cherries
Flavour: Smoked plum and purple grapes mixed with buttery vanilla and rich beeswax gradually give way to crisp floral notes with charming apricot and peach.
Palate: A full-bodied and rich texture, with hints of spicy oak and sweet honey, autumn pear and chestnuts. The mellow aroma of ripened fruit, guava and cinnamon come together to form a delicious and lingering finish.
MOTHER EARTH – Peated Malt Single Cask Strength 54.8
Painting – "Jinzun / Summer"
The final piece in the set is both homecoming and rebirth. The green, yellow, and blue represent Taiwan's East Coast's lushness and the vibrant flavours and scents of Kavalan whisky. This Mother Earth bears the fruits of labour for both Kavalan and Mr Chiang and the seeds for new growth. The Kavalan dream becomes a reality.
Official Tasting Notes:
Colour: Plump Golden Rice Ears
Flavour: Rich beeswax, toffee, and coconut aroma complement the unique tropical fruitiness of Kavalan, exuding a deliciously charming and full-bodied sweetness.
Palate: A lavish spread of buttered toffee melts away into a peaty aroma with delicious earthy notes. Exquisitely layered and complex, with a balanced texture and remarkable depth of flavor. Lingering notes of red pepper, spice, and the unique aroma of longans create the perfect finish.
Additional information
| | |
| --- | --- |
| Weight | 13.5 kg |
| Dimensions | 43 × 32 × 38 cm |
| Country | Taiwan |
| Distillery | Kavalan |
Only logged in customers who have purchased this product may leave a review.
Shipping / Delivery
We offer FREE postage on all orders shipped within Australia when you spend over $200. Shipping insurance will be an added cost and your product will not be insured for loss or damage unless insurance is chosen and paid for. The insurance box is selected automatically when you are checking out. 
Due to the current COVID-19 situation our delivery partners Australia Post are running a delayed schedule. We are doing what we can to have orders ready as quickly as possible this is including gift wrapping and engraving. Most orders will be dispatched within 24 hours.
Usual Shipping Times With Australia
Typical Australia Post Parcel Post delivery times are as follows, these times will vary during the current COVID 19 crisis.
Melbourne 1 to 2 working days
Sydney 1 to 2 working days
Adelaide 2 to 3 working days
Brisbane 3 to 4 working days
Darwin 4 to 5 working days
Perth 4 to 5 working days (Major Delays Expected)
Typical Australia Post Express Post delivery times are as follows, during the current COVID 19 crisis Express Post times will vary. Currently Express Post IS NOT an overnight service in most states but this is changing daily.
Melbourne next day delivery
Sydney next day delivery
Adelaide next day delivery
Brisbane next day delivery
Darwin next day delivery
Perth times next day delivery (Major Delays Expected)
Should the order be urgent please call 0434 438 617 to discuss other options.
For gift wrapping and engraving services please visit https://www.thewhiskycompany.com.au/engraving-gift-wrapping/
Your order is unable to be left unattended by Australian law. Please do not request an order containing alcohol to be left unattended at your property. If you are not available to sign for the package it will be taken to the closest Post Office for collection and details emailed, texted or card left.
We post our items worldwide excluding the US and Canada with other countries an exception. The cost of shipping internationally will be calculated in checkout. Find out more about shipping here. 
In line with the Federal Governments prescribed instructions, and to keep our staff and customer safe we have changed our operations:
We have increased sanitising of all surfaces within our office areas and packing areas.
We have increased the space we are using for packing and administration work.
Anyone with signs of infection or symptoms are refused entry to our facility.
We have hand sanitiser being used in our facility.
We are regularly washing our hands with anti bacterial soap.
The area in which we pack orders is being treated with antibacterial spray on a regular basis.

FAQ's

Do we ship to the United States and Canada?
Due to Customs laws we are unable to ship to the US and Canada

Can we leave your order unattended?
Your order is unable to be left unattended by Australian law. Please do not request an order containing alcohol to be left unattended at your property. If you are not available to sign for the package it will be taken to the closest Post Office for collection and details emailed, texted or card left.