Kosher Certified Whisky
The following whiskies are certified Kosher and are suitable for consumption.
The following information has been adapted from The London Beth Din Kashrut Division. Irish whiskey may by law contain wine and other ingredients and thus should not be consumed except where the product has a Hechsher or has been Rabbinically approved.
However the following applies to Scotch Whisky:
1. No additives are permitted in Scotch Whisky with the exception of caramel colour which is kosher.
2. Ordinary Scotch Whisky whether Single Malt or Blended without any mention of the use of Sherry, Port or other wine casks on the label or marketing literature can confidently be consumed without any concerns relating to having been in contact with wine casks.
3. Whisky which has been matured in wine casks has been subject to detailed halachic consideration by major poskim (including 'Minchas Yitzchak vol 2, 28 and Igros Moshe Yore Deah vol 1, 62 and 63) who did not forbid its consumption.
4. There is a new process however, known as wine cask finishes (also referred to as double or second maturation ) which is a secondary process that some claim is specifically designed to enhance the flavour of otherwise fully matured whiskey and impart a recognisable taste of the wine. This new process may not be covered by all the aforementioned heterim and accordingly some may wish to avoid products so labelled. The London Beth Din continues to allow all types of Scotch Whisky based on Teshuvos Igros Moshe, as does the Kashrut Authority.
Information gathered from 'The Kashrut Authority' and may be subject to change. We suggest using this information and also information investigated by you, the individual, before consumption of any product on our website.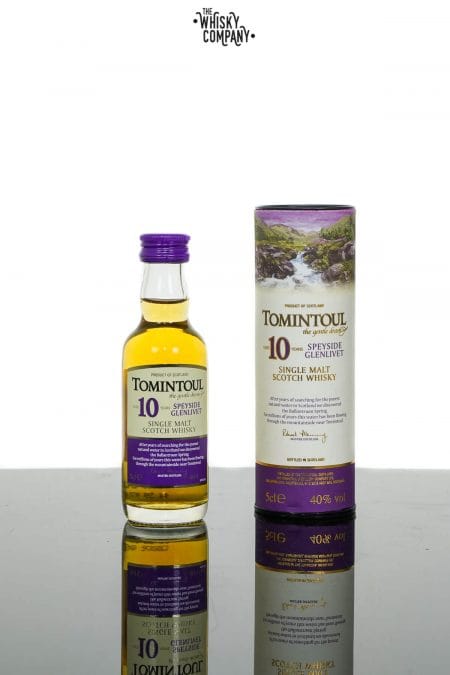 $

10.00
Tomintoul Aged 10 Years Speyside Single Malt Scotch Whisky (50ml) Volume: 700ml           ABV: 40%            Age: 10 Years Old           Country: Scotland Pure ingredients and the natural...