Liquid Hand Sanitisers
Liquid Hand Sanitiser
Developed to World Health Organisation (WHO) guidelines. Sanitiser of this form is 78% to 83% alcohol by volume and kills 99.9% of bacterial and germs if used in the correct way. Made and bottled in Australia by Australian paid workers.
Manufactured in partnership with our distribution partners The Corowa Distillery we introduce to you The Whisky Company Hand Sanitiser. 80% Alcohol guaranteed.
This handy glass pump bottle is a helpful way of killing any germs that may be present on your hands. The liquid is non sticky and suitable for external use only.
Produced and tested by qualified professionals at Corowa Distillery. Help battle the spread of COVID-19 today.
Bulk Orders: Registered businesses who are in need of hand sanitiser in larger amounts please contact us at admin@thewhiskycompany.com.au for more details and pricing.
Please Note: A proportion of the profits from the sale of this item will be donated to Food Bank Australia and local community groups
Ingredients:
Ethanol 96%
Hydrogen Peroxide 3%
Glycerol 98%
Sterile Water
DoTerra Wild Orange Natural Oil
Consumer warning Label – for consumer household use:
Suitable for use in healthcare, after nappy change toilet use, contact with animals or biological contaminants.
Suitable for use before food preparations or eating
Suitable as a general hand sanitiser to kill viral agents
This product may be used in hospitality, offices, retail, airports, public transport, public areas and medical service facilities.
Caution Advice:
Keep out of reach of children
Do not swallow
Avoid contact to eyes – For External Use Only.
In the event of irritation wash the affected areas with cold clean water or saline and discontinue further use.
Do not use on inflamed broken or sensitive skin
Store below 30 degrees Centigrade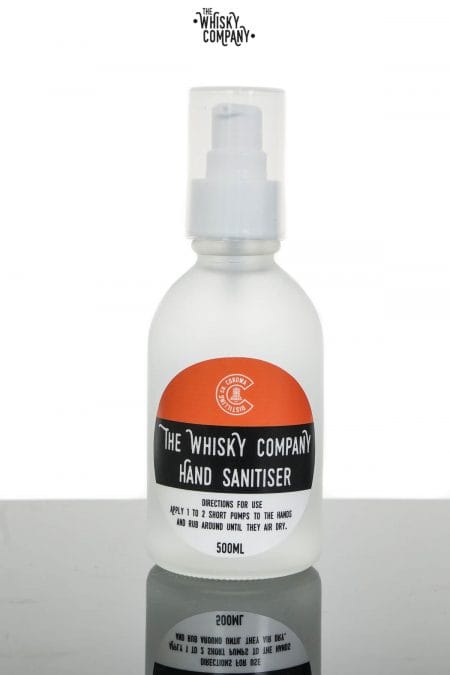 $

5.00
The Whisky Company Liquid Hand Sanitiser – (125ml) *URGENT MESSAGE – PLEASE DO NOT PAY WITH APPLE PAY – THEY ONLY GIVE YOU THE EXPRESS POST OPTION AND CHARGE MORE. WE ARE LOOKING INTO THIS ERROR FROM APPLE PAY. Developed...