Tomintoul Single Malt Scotch Whisky
Buy Tomintoul Speyside Glenlivet Single Malt Scotch Whisky
We have the largest selection of single malt Scotch whisky directly imported from the Tomintoul distillery in Speyside-Glenlivet. This single malt whiskey is described as the 'gentle dram' boasting wonderful character and sophistication in each mouth-full. Shop for Tomintoul single malt Scotch whisky today online.
About the Distillery
Tomintoul distillery is built in the highest village in the highlands of Scotland and can sometimes be very hard to access due to the road being blocked with snow and ice in the winter. However hard it is to get here the storage facilities at Tomintoul are huge and boast a warehouse that can accomodate ten million litres of malt within the grounds.
The water source is the local Ballantruan Spring and with this water they produce about 3,000,000 litres of spirit annually. The current owners are Angus Dundee plc and the distillery has four stills to produce the spirit. This spirit is mainly used and a very valuable contribution to Whyte and MacKay's blends.
The tours here are limited by appointment only but if you are lucky enough to be taken through the distillery you will see a well designed industrial hub for whisky making. The storage facilities for the barrels and for the grain are some of the biggest in the Scottish whisky industry and the stills are unpolished rugged objects, well used and sit at a towering height. The methods here are also state of the art, environmentally friendly helping sustain the surrounding landscape and wildlife.
The new make spirit is transferred into a combination of American oak bourbon casks and also refill hogsheads with the odd Oloroso sherry butt being allocated from time to time. Great things are happening at this distillery since Angus Dundee took over in 2000 and we expect more delicious single malts to come at great prices which so far have surprised us and our taste buds.
You should expect a light bodied and smooth single malt, not very complex and great for after dinner. This single malt is an excellent whisky to start your whisky journey and enjoy for many decades later with vast choice of age statements any whisky enthusiast would want in their collection.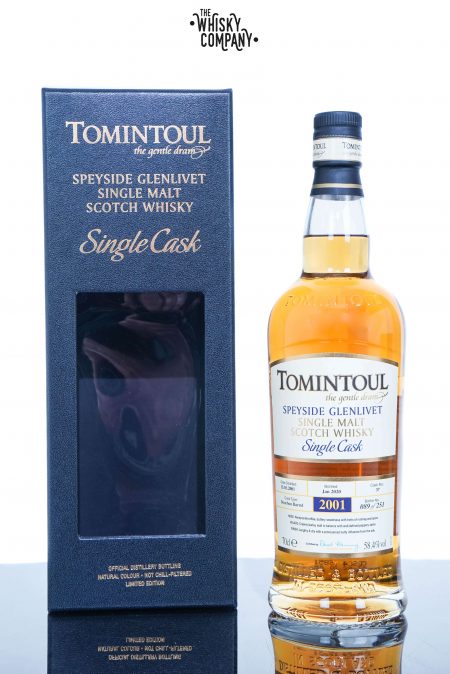 $

399.00
Tomintoul 2001 Aged 19 Years Speyside Single Cask Single Malt Scotch Whisky – Cask No. 37 (700ml) Volume: 700ml           ABV: 58.4%            Age: 19 Years Old          ...