New Signatory Vintage – Celebrate Whisky 
With this quarters release of Signatory Vintage bottlings I wanted to highlight some of the Un-Chillfiltered bottlings. Often overlooked in favour of their cask strength brethren, these 46% expressions offer outstanding value for money while still being every bit as rewarding to the discerning drinker. While higher ABV expressions are an amazing vehicle for flavour they can often numb the palate slightly, causing you to miss out on some of the more elegant, delicate notes present in your dram. In this case I've selected three Un-Chillfiltered bottlings to feature that have Cask Strength counterparts, either currently or to be released in the near future. You'll be able to make up your own mind as to which you prefer!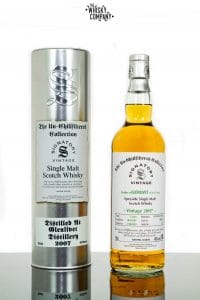 This independent bottle by Signatory has been matured in a 1st fill Sherry butt for 11 years. There are not many independent bottlings of Glenlivet about these days, especially matured in a first fill Sherry barrel.
This Un-Chillfiltered bottling is the counterpart to the incredible 2007 Glenlivet 66.3%, bottled exclusively for Australia. The Un-Chillfiltered expression exhibits all of the amazing sherried characteristics of the cask strength bottling but in a far more restrained manner. At a recent tasting the room was split evenly on which sherried Glenlivet they preferred.
OUR TASTING NOTES
Nose: Pineapple, stewed fruits, nutmeg and cinnamon, Sherried oak, raisins and treacle toffee.
Palate: Plenty of toasted barley, cinnamon, nutmeg, white pepper. Apple and raisin chutney, orange marmalade and citrus.
Finish: Christmas cake, stewed pineapple, Sherry oak and toasted walnuts.
This independent bottle by Signatory has been matured in two Hogshead barrels for 8 years. Produced as part of Signatory Vintages Un-Chillfiltered Collection comes an 8 year old Caol Ila single malt.
Already a firm favourite around the office, this is everything a young Caol Ila should be. Caol Ila has always been one of the lighter islay malts and really benefits from a simple ex-bourbon barrel maturation that allows the peat and brine notes to shine through. Exciting news for those who love this style, we'll have another Australian Exclusive Cask Strength bottling to pair with this Un-Chillfiltered edition in the new year! The cask I sampled in April was simply too amazing, I immediately knew I had to have it.
OUR TASTING NOTES
Nose: Digestive biscuits, smoked cheddar, banana fritters.
Palate: Creamy and spicy with vanilla and a pinch of sea salt.
Finish: Luscious and creamy, mint and black pepper.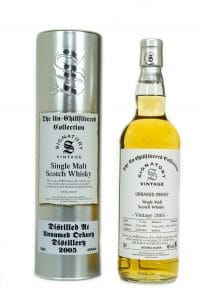 This independent bottle by Signatory has been matured in two Hogshead ex-Bourbon barrels for 13 years. The origin of the bottling describes an undisclosed distillery on Orkney, flip a coin! A rare find these days.
Delicate and fruity, this Un-Chillfiltered Collection bottling is one to offer to your friends who say "I don't like peat!", it's there but it really is subtle. Once again I have selected a cask strength version of this whisky to be released exclusively to Australia in the New Year.
OUR TASTING NOTES
Nose: Crisp freshly cut granny Smith apples, toasted almonds drizzles of honey sweetness. Slightly creamy with a touch of star anise.
Taste: Rich and warm with honey sweetness, lots happening here. Golden delicious apples, candy floss and vanilla fudge. Toasted cereals, citrus and oak. Spice balances the palate.
Finish: Lasting oak, still honey sweetness lingering. Medium length with plenty of cereals and toasted nuts.
Comments are closed