The Making of Whisky
In this chapter we share the (not so secret) recipe that goes in to making our favourite tipple. It still amazes us that whisky displays so much variation and intricacy despite its 3 simple ingredients.
Water
There are two areas in the world famed for their pure water, Scotland and Tasmania. Unsurprisingly these areas are also famed for their single malts! Access to an abundance of clean water is the key to success when deciding on the best location for your distillery. Soft water will absorb more from the malted barley used to make whisky, than hard water will, which might offer a reason as to why it seems to make a suitable ingredient for whisky. Some also believe that peaty water will have an influence on the whisky, helping to give a peaty flavour to the drink. Otherwise the different waters used by distilleries should not affect the finished product too much.
Barley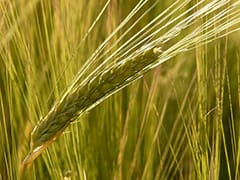 Malted barley, or Malt, is always used for malt whisky, not surprisingly. In contrast, grain whiskies will use maize or other cereals. There are many types of barley used which does alter the taste and aroma of whisky. Some of the types of barley used are Accrue, Actrice, Alexis, Amarena, Braemar, Bass, Baudin, Buloke, Conchita, Cocktail, Commander, Gairdner, Granger, Henley, Marcorel, Optic, Sebastian, Scope CL, Vlamingh. Some of the barleys are immediately obvious to whisky connoisseurs.
Yeast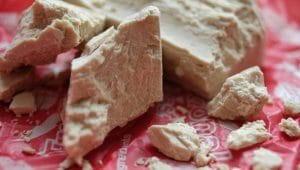 Yeast is one of the less significant factors when it comes to the flavour of the whisky, but nevertheless a crucial element as the yeast is used to trigger the chemical process that converts sugars in the malted barley into alcohol. Yeasts are micro-organisms related to fungi and the cells are invisible to the naked eye and on average 1 gram of yeast contains 10,000million cells. The word yeast derives from the Dutch word 'gist meaning foam. As well as alcohol yeast produces other compounds, these are known as congeners, which include a range of esters, aldehydes, acids and higher alcohols, these all contribute to flavour.
Now I know that we said three ingredients but another is not entirely an ingredient but can be a vital additional product used to flavour the initial product. Not added to the mix but more smoked to add flavour to the malted barley.
Peat
Peat is coal but thousands of years in the making. A partially decayed organic material peat makes bogs and bogs are made by peat. Peat is generally formed when dead or dying plants as well as remains of insects and small animals are prevented from rotting at the normal rate due to being completely covered by water. Peat is found mainly in wet cold countries and is also used as fuel after it is dried out. Peat is used during the malting process to halt the germination of the barley and add smokiness to the barley ready for mashing.
Comments are closed